The event below has concluded successfully.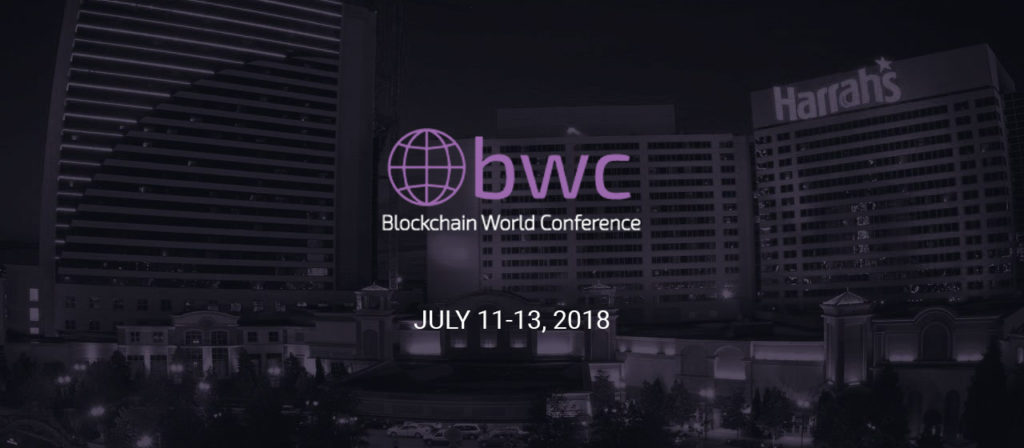 Blockchain World Conference (BWC), sponsored by BWC Events, LLC, is set to be the very first truly global blockchain conference ever held and the very largest conference to ever take place in the crypto space. This historical three-day event will take place July 11-13, 2018, at the world-famous Harrah's Resort in Atlantic City, NJ, and will bring together the world's foremost blockchain and fintech industry leaders from all across the globe.
More than 8,000 attendees representing 42+ countries are expected to be present at BWC, with 25,000+ worldwide viewers tuning in via live streaming. The conference will feature over 120 exhibitors showcasing the very most cutting-edge blockchain-related information, products and services in 50,000 square feet of exhibit space.
This unprecedented event will be jam-packed with presentations, panel discussions, educational seminars, industry addresses, networking events, exhibits and more as the latest information in the blockchain arena is shared by the world's premier experts. A keynote address by John McAfee, "the bad boy of blockchain," will cap off the conference, and there will also be plenty of fun for those in attendance, including VIP suite parties, dance events, golf outings and much more. Enjoy the sites and sounds of Atlantic City while hobnobbing with the best and brightest blockchain and fintech experts, enthusiasts, developers, investors and businesses in the world!
The BWC team has searched the globe and worked tirelessly to attract the most exciting lineup of blockchain and crypto experts to ever come together on one stage and under one roof. Each distinguished speaker has been handpicked to deliver the very latest information available in the blockchain arena, with presenters including renowned scientists, analysts, educators, business leaders and more. There is simply nowhere else on earth where attendees can learn and gain as much as they will at the history-making Blockchain World Conference.
The chief aim of Blockchain World Conference is to expand the reach of blockchain technology and help foster long-term growth and sustainable expansion within this exciting industry. No one desiring to be part of blockchain's future can afford to miss this life-changing conference. From educators, technologists, developers and facilitators to accredited investors, entrepreneurs, ICOs and startups, the attendance list is vast and varied. This event will truly be the "Who's Who" of the blockchain industry!
Attendees will learn all they ever wanted to know and more about blockchain, including the future outlook of blockchain development, how to invest in blockchain startups and businesses utilizing ICO crowdfunding, how to increase the security of cryptocurrency assets and much more. There will also be countless opportunities to network with the best-of-the-best blockchain and fintech experts, investors, developers and companies in the world.
Event sponsor BWC Events is dedicated to growing global acceptance and awareness of blockchain technologies, recognizing that this brave new industry is evolving at a dizzying pace and that the technology behind blockchain has the potential to touch and significantly impact every human endeavor. The BWC Events executive team has been producing world-class conventions, trade shows and educational seminars for more than three decades.
Blockchain World Conference (BWC)
July 11-13, 2018
Atlantic City, NJ
Get Your Tickets Now!
---
Conference Highlights
Blockchain World Conference will be the largest blockchain conference ever held and the first truly global conference to take place in the crypto space.
Speakers and presenters include the world's top blockchain and fintech industry experts.
8,000+ attendees expected representing 42+ countries, with 25,000+ global viewers tuning in via live streaming.
120+ exhibitors showcasing in 50,000 square feet of exhibit space.
Keynote address by John McAfee, "the bad boy of blockchain."
Fun and invaluable learning and networking opportunities including seminars, panel discussions, VIP parties, golf outings, dance events and more.