Verif-y
Verif-y's mission is to develop and use the best technologies in order to provide a unique and evolving value to our users through continued innovation, determination and customer obsession. We will continue to provide individuals with the ability to own and control their identity and to provide employers, credential providers and other organizations with better ways to serve their employees, students and members while improving their operational efficiencies.
As we progressed through our lives, we constantly encountered situations where we needed to provide information about our history. We realized that this story is common to everyone who is looking for a job, applying for finances or needing to prove their employment status. We also realized that most of the pieces of information that are used to evaluate our financial, employment or credential authenticity are not within our control. Verif‑y was created to change that – we want users to own their information and decide who can see it.
---
Core Admin
Core Admin has become one of the leading community management experts in the crypto market by converting customers across channels with personalized, immersive user experiences. Mobile was just the start. With an anticipated 50 billion connected devices by 2020 – more than six for every person on the planet – today Core is pioneering experiences for a wide range of smart devices that you hold in your hand, store in your bag, wear on your wrist and use in your home or car.
At its simplest, digital currency is more than just technology; it's a currency that will revolutionize our traditional financial systems. Core connects the crypto market to its end user, whether it's through businesses, peer-to-peer, or directly through key digital media platforms. BLC Core Community Ltd is a corporation registered at the Republic of Cyprus.
---
ICO Law Group
ICO Law Group is a cryptocurrency and ICO laws legal services firm. Our mission is to help the international cryptocurrency community navigate the legal intricacies of the cryptocurrency world. ICO Law Group is a knowledgeable and experienced team of ICO attorneys, with international corporate and securities backgrounds, who are here to help your cryptocurrency, ICO or blockchain related project flourish safely in the growing space.
Our crypto attorneys have consulted and advised on legal matters all around the world. Our clients consist of a healthy combination of young projects to entirely established projects that are well-known within the community. Different projects have different needs which are determined by a myriad of factors, including: what nationality the team members and owners are in, which industry the digital currency is addressing, whether the currency represents an equity or debt, whether the currency truly classifies as a utility token in the U.S. (most do not), whether the ICO project is using multiple companies to facilitate parts of the project (all projects should do this); and so on. We greatly pride ourselves as being one of the best blockchain lawyers and crypto attorneys out there.
---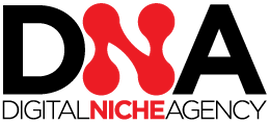 DNA
Based in the Playa Vista tech hub of Los Angeles, California, Digital Niche Agency (DNA) has worked with over 300 brands on data-driven marketing campaigns to effectively acquire users, customers, and investors.
DNA starts with Marketing Strategy and activates across Content Marketing, Advertising, and Direct Outreach programs to outperform industry average benchmarks.
---
The Wild West Crypto Show
The Wild West Crypto Show, presented by Blockchain Media Group, is the No. 1 source for the latest crypto news, inside information and exclusive interviews from the most influential people in the crypto space. Whether you're a little wet behind the ears in the world of cryptocurrency or you have been blazing the crypto trail for a while, the Wild West Crypto Show is the best crypto podcast to show you the good, the bad, and the ugly of crypto. Thanks to C-Suite, the Wild West Crypto Show has a larger audience than ever. Our show is packed full of information from experts who know a thing or two about cryptocurrency. We're going to break down everything that newcomers need to know about getting started in cryptocurrency while providing valuable insight for more experienced Crypto Cowboys.