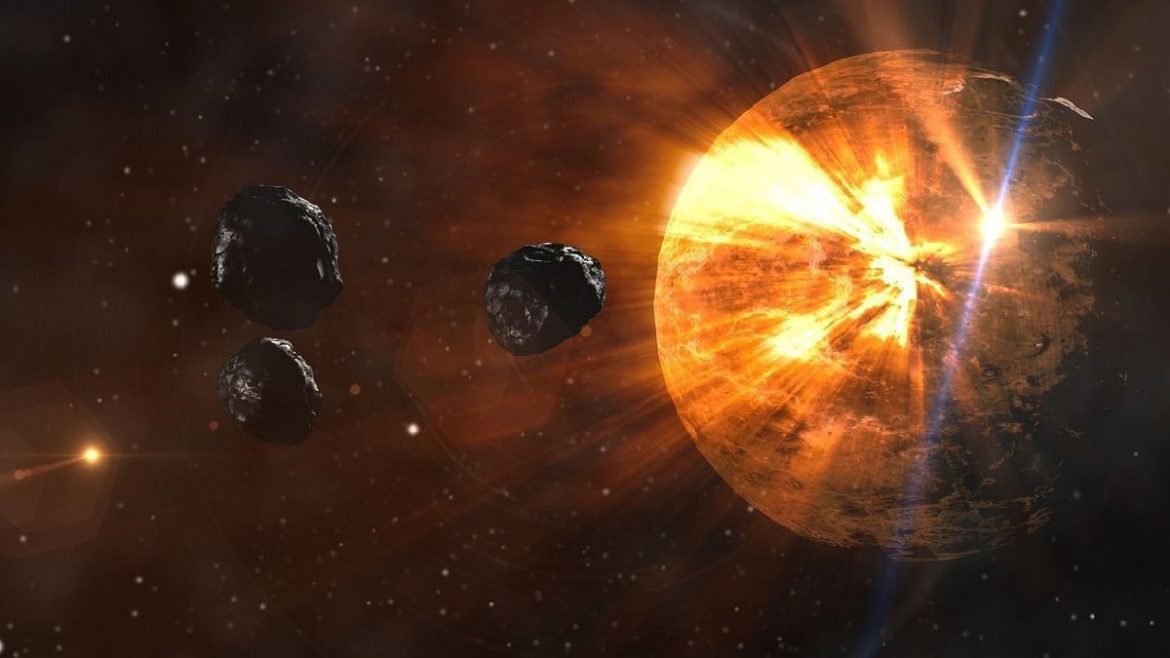 On August 19, 2019, Binance announced plans to initiate and launch an open blockchain project called Venus on the heels of other stablecoin projects like Facebook's Libra, JP Morgan's JPM token, or even Beijing's WeChat Pay proposals. While there is huge competition to leverage market share and interest in a crypto token that has enough stability to onboard retail and enterprise establishments into accepting a digital form of currency, Binance is ahead of the curve and fundamentally different from the other projects out there.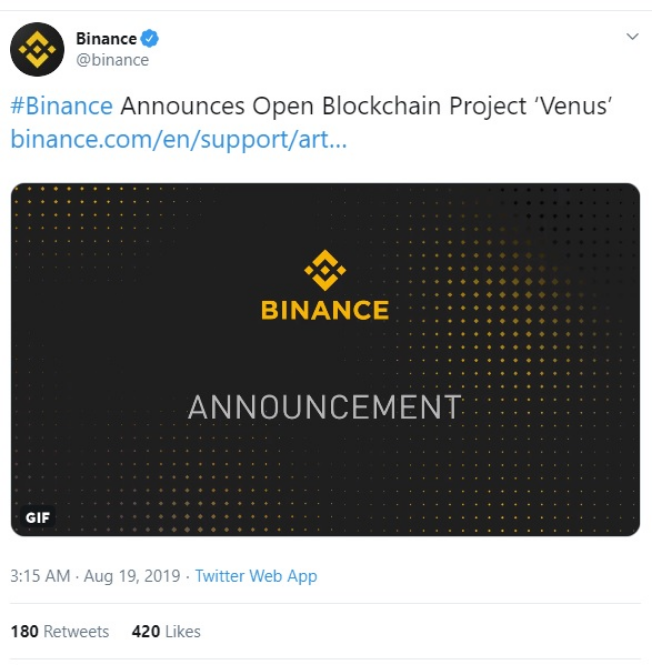 According to their press release, Binance has "already reserved its public chain technology and cross-border payment system for secure operations of new stablecoins" and has proven their ability to manage fiat-backed stablecoin like BGBP Stable Coin, which is pegged to the British Pound.
While Facebook hopes to launch Libra as a universal stablecoin that can be used with their infrastructure and operating apps like Messenger, WhatsApp and Instagram to reach the unbanked or underbanked communities, Venus Project is slated to be more localized in their development. Binance wants to empower industrialized and developing countries to launch new fiat-pegged cryptocurrencies, but they are also using strategic partnerships for the greatest consumer outreach.
To stay relevant and in the game during crypto winter, Binance formed strategic partnerships with entities like Verasity, which is an app that unites rewards and loyalty programs within a video player wallet. According to their press release, Verasity "empowers viewers, publishers, and advertisers and share across all major video platforms including YouTube, Twitch, Vimeo, JWPlayer and others which represent over 95% of all the video players utilized."
Another example is Binance Charity Foundation (BCF), which announced a strategic partnership with 47 charitable organizations in July 2019. But even prior to that, BCF was already working in Uganda with the Lunch for Children program that provides food and educational materials.
Binance has touched the video industry, charitable organizations and, as mentioned earlier a fiat-backed stablecoin like BGBP. But this is really just the beginning of their march to crypto dominance. In May 2017, Binance and Monaco entered into a strategic partnership that extended BNB token support to Monaco's platforms, mobile app and VISA debit card with the MCO/BNB trading pair on Binance.
The Venus Project has the advantage of utilizing existing Binance infrastructure, plus their pledge to provide all the technical support, regulations, compliance, and risk control with a plan to target localized governments, strategic partnerships and organizations around the globe. From this perspective, it's quite possible that Binance is positioning itself to take over the cryptosphere.
One last thing in Binance's favor is the International Monetary Fund (IMF) encouragement of national banks to investigate blockchain and digital currency as more regulatory frameworks and broad acceptance of the evolution of money comes to bear in the fintech revolution. The crypto revolution is upon us and if the name isn't a big hint, Venus is going to be out of this world.
– This article was originally posted at CryptoTraderNews
About CryptoCurrencyWire ("CCW")
CryptoCurrencyWire (CCW) is a financial news and content distribution company that provides (1) access to a network of wire services via NetworkWire to reach all target markets, industries and demographics in the most effective manner possible, (2) article and editorial syndication to 5,000+ news outlets (3), enhanced press release services to ensure maximum impact, (4) social media distribution via the Investor Brand Network (IBN) to nearly 2 million followers, (5) a full array of corporate communications solutions, and (6) a total news coverage solution with CCW Prime. As a multifaceted organization with an extensive team of contributing journalists and writers, CCW is uniquely positioned to best serve private and public companies that desire to reach a wide audience of investors, consumers, journalists and the general public. By cutting through the overload of information in today's market, CCW brings its clients unparalleled visibility, recognition and brand awareness.
To receive instant SMS alerts, text CRYPTO to 888-902-4192 (U.S. Mobile Phones Only)
CryptoCurrencyNewsWire is where News, content and information converge via Crypto.
For more information, please visit https://www.cryptocurrencywire.com
Please see full terms of use and disclaimers on the CryptoCurrencyWire (CCW) website applicable to all content provided by CCW, wherever published or re-published: http://CCW.fm/Disclaimer
CryptoCurrencyWire (CCW)
New York, New York
www.cryptocurrencywire.com
212.994.9818 Office
Editor@CryptoCurrencyWire.com
This article contains Third-Party Content submitted by third parties, including articles submitted through the CCW Premium Partnership Program. All opinions, statements and representations expressed by such third parties are theirs alone and do not express or represent the views and opinions of CCW or its affiliates and owners. Content created by third parties is the sole responsibility of such third parties, and CCW does not endorse, guarantee or make representations concerning the accuracy and completeness of all third-party content. You acknowledge that by CCW providing you with this internet portal that makes accessible to you the ability to view third-party content through the CCW site, CCW does not undertake any obligation to you as a reader of such content or assume any liability relating to such third-party content. CCW expressly disclaims liability relating to such third-party content. CCW and its members, affiliates, successors, assigns, officers, directors, and partners assume no responsibility or liability that may arise from the third-party content, including, but not limited to, responsibility or liability for claims for defamation, libel, slander, infringement, invasion of privacy and publicity rights, fraud, or misrepresentation, or an private right of action under the federal securities laws of the United States or common law. Notwithstanding the foregoing, CCW reserves the right to remove third-party content at any time in its sole discretion.