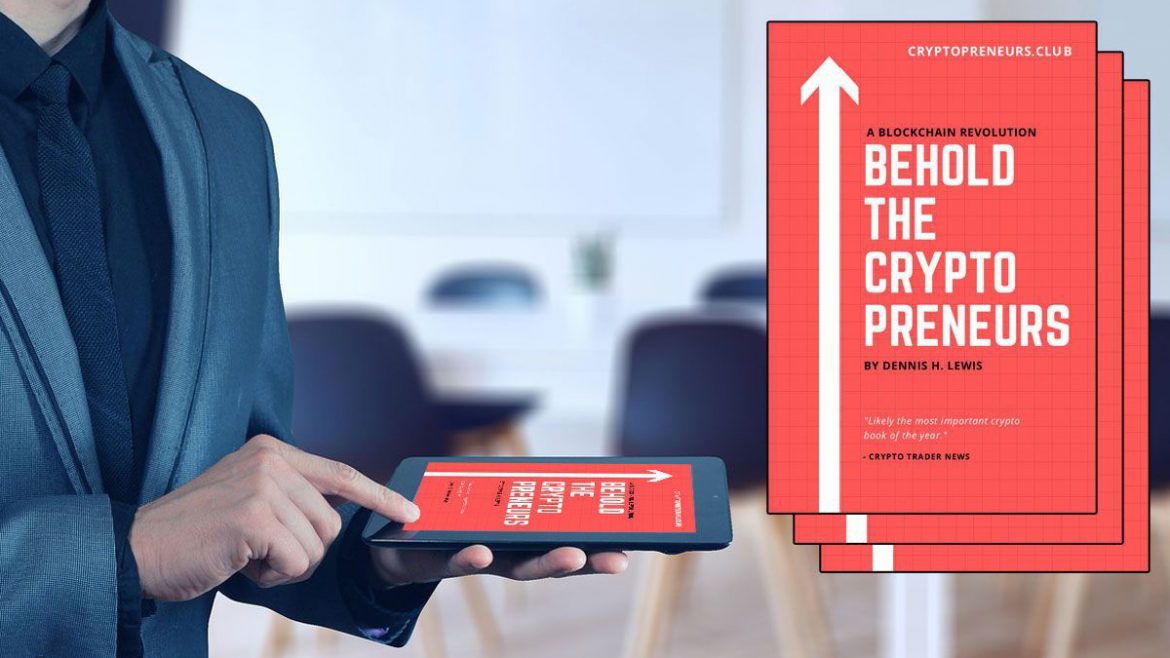 Entrepreneur Kevin O'Leary Recommends Behold the Cryptopreneurs by Dennis H. Lewis
Integrating blockchain technology is fast becoming a necessity for enterprise ventures and small or large businesses, but with a growing number of choices in the tech revolution, it's difficult to pick a direction without feeling overwhelmed or taken advantage of. This is where the new book, BEHOLD THE CRYPTOPRENEURS comes in.
Canadian businessman, author, and television personality, Kevin O'Leary, also known as "Mr. Wonderful" from the hit television show Shark Tank, has said this: "Dennis Lewis, who just launched his new book 'Behold the Cryptopreneurs' is all about using the blockchain to solve real problems for real people. He doesn't pull punches and it's a great read. You know, cryptocurrencies is very controversial but Dennis is kind of bringing it home for the long term. That's what I like about this whole initiative."
Private keys, the myth of anonymity, and the battle against anarchist ideology are only a few of the difficult challenges faced by businesses that want to incorporate blockchain into their culture. In the book, the author, Dennis H. Lewis, guides the reader through those challenges and helps them discover the true potential of investing in this new economic paradigm.
Every business has pain points that must be overcome in order to branch out and thrive in an ever-changing commercial environment. Blockchain has real world solutions and cryptopreneurs are not limited to the cryptocurrencies they invest in but rather how they seize economic and technological opportunities to make it work for them.
Innovation, trust, and solutions can differentiate your business from all the noise, but without a solid marketing plan, a cryptopreneur can have the best idea and never get far. Remember: a million great ideas times zero market presence equals zero success.
Investors want to know there is public interest and enthusiasm in a project before they commit any money to it. As a cryptopreneur, you are tasked with generating that interest from the public as well as those venture capitalists. If you are scratching you head wondering how to make that happen, then you need to read BEHOLD THE CRYPTOPRENEURS.
BEHOLD THE CRYPTOPRENEURS is listed on Book Summary Club's list of The 105 Best Business Books of All Time (2019 Edition). In a recent interview, Dennis Lewis responded, "I am thrilled that Behold the Cryptopreneurs was chosen to be included in the top 105 business books of all time. The blockchain industry has the potential to transform society for the better, but it's time the industry starts to deliver on its promises. If you feel the same, grab a copy and let me know what you think."
About the author
Author Dennis H. Lewis is a digital storyteller and blockchain marketing specialist with a proven track record in both Europe and the United States, having raised over $40 million for blockchain projects and building successful influential communities that span well over 100K enthusiastic supporters. He has successfully lead to market and exited multiple startup companies, often making complex projects relatable and easy to understand in order to build trust that leads to a project's success. With a degree in mathematics and 30+ years of business experience within the tech sector, he understands the complexity behind the blockchain evolution and how it will have lasting effects in retail, corporate and enterprise ventures.
– This article was originally posted at CryptoTraderNews
About CryptoCurrencyWire ("CCW")
CryptoCurrencyWire (CCW) is a financial news and content distribution company that provides (1) access to a network of wire services via NetworkWire to reach all target markets, industries and demographics in the most effective manner possible, (2) article and editorial syndication to 5,000+ news outlets (3), enhanced press release services to ensure maximum impact, (4) social media distribution via the Investor Brand Network (IBN) to nearly 2 million followers, (5) a full array of corporate communications solutions, and (6) a total news coverage solution with CCW Prime. As a multifaceted organization with an extensive team of contributing journalists and writers, CCW is uniquely positioned to best serve private and public companies that desire to reach a wide audience of investors, consumers, journalists and the general public. By cutting through the overload of information in today's market, CCW brings its clients unparalleled visibility, recognition and brand awareness.
To receive instant SMS alerts, text CRYPTO to 77948 (U.S. Mobile Phones Only)
CryptoCurrencyNewsWire is where News, content and information converge via Crypto.
For more information, please visit https://www.CryptoCurrencyWire.com
Please see full terms of use and disclaimers on the CryptoCurrencyWire (CCW) website applicable to all content provided by CCW, wherever published or re-published: http://CCW.fm/Disclaimer
CryptoCurrencyWire (CCW)
New York, New York
www.CryptoCurrencyWire.com
212.994.9818 Office
Editor@CryptoCurrencyWire.com
CryptoCurrencyWire is part of the InvestorBrandNetwork.
This article contains Third-Party Content submitted by third parties, including articles submitted through the CCW Premium Partnership Program. All opinions, statements and representations expressed by such third parties are theirs alone and do not express or represent the views and opinions of CCW or its affiliates and owners. Content created by third parties is the sole responsibility of such third parties, and CCW does not endorse, guarantee or make representations concerning the accuracy and completeness of all third-party content. You acknowledge that by CCW providing you with this internet portal that makes accessible to you the ability to view third-party content through the CCW site, CCW does not undertake any obligation to you as a reader of such content or assume any liability relating to such third-party content. CCW expressly disclaims liability relating to such third-party content. CCW and its members, affiliates, successors, assigns, officers, directors, and partners assume no responsibility or liability that may arise from the third-party content, including, but not limited to, responsibility or liability for claims for defamation, libel, slander, infringement, invasion of privacy and publicity rights, fraud, or misrepresentation, or an private right of action under the federal securities laws of the United States or common law. Notwithstanding the foregoing, CCW reserves the right to remove third-party content at any time in its sole discretion.