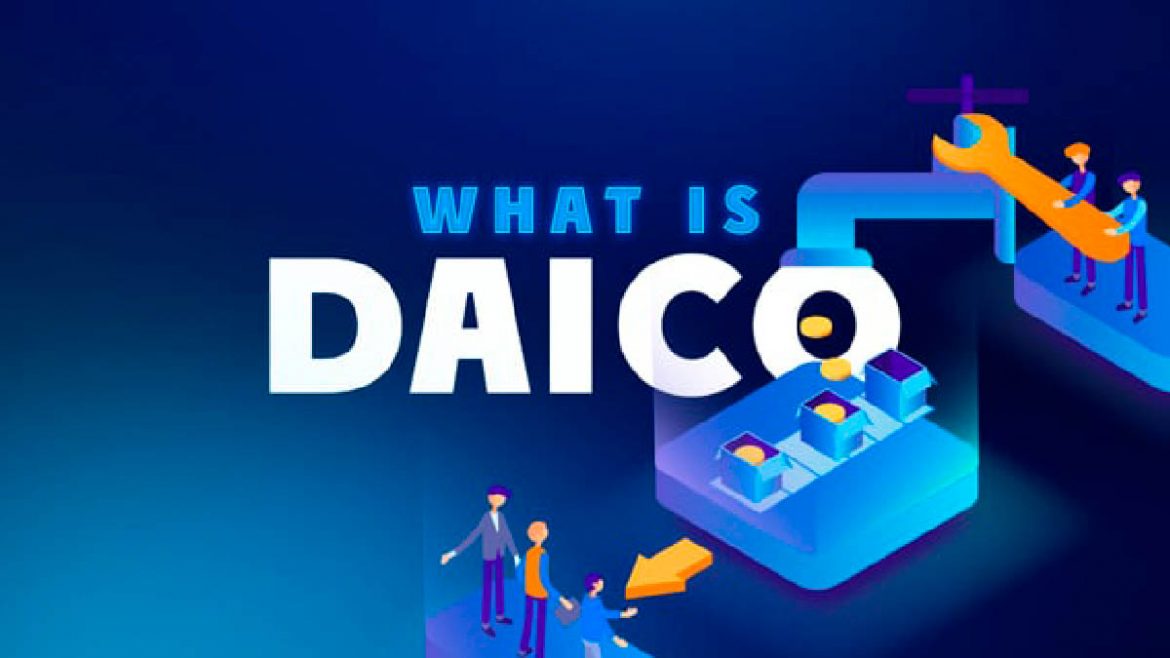 Traditionally cryptocurrencies have raised funds through the ICO model, but thanks to a lot of scams and lost confidence in that form of crowdfunding, ICOs have become virtually obsolete. In fact, there have been several ICO scams; over 80% of the projects that never even built an MVP. The invested wealth was wiped from the market capitalization as projects failed to deliver anything beyond their whitepaper. Because of these scams and high-risk ventures, legitimate projects have had to adjust from an ICO model and replace it with STOs and eventually IEOs. Which leads us to DAICO.
What is a DAICO?
Projects are now turning to DAO for raising investment. DAO was designed to be automated and decentralized. The organization acts like a VC fund based on open-source code and without human management. DAO was designed to allow investors to send money from anywhere in the world anonymously and then the organisation would provide owners with tokens, allowing them voting rights in the project.
The DAO does have its benefits but not without some risk. The ICO model, though riddled with scams, was an effective one. DAICO leverages the ICO machine with the benefits of a DAO. This minimizes complexity and risk.

The snazzy acronym combines DAO and ICO to be referenced as DAICO. It is published by a single development team that wishes to raise funds for projects. It begins in "contribution mode", specifying a mechanism by which participants can contribute ETH to the contract. The participant then receives tokens in exchange. Based on the team's needs, the sale of tokens can be capped or uncapped. Once the investment period has ended, the initial token balances are set and the tokens can be traded.
Why do we need DAICO?
ICOs carry several risks and they typically have a soft cap. If the project doesn't hit the soft cap, it is deemed a failure and the funds are returned to the investors. However, once the team raises funds they are free to use it as they deem fit.
51% attack maliciously raises the tap; developers can just lower the tap again, or not claim excess funds
Voters can prevent wasteful spending by not raising the tap by too much too quickly. If it happens anyway they can vote to self-destruct
51% attacks maliciously self-destructs
Who introduced DAICO?
When it comes to new initiatives, it's important to know who the developers and think tank are. In DAICO, Vitalik Buterin, the founder of Ethereum, is the first to come up with the concept of DAICO back in January 2018. He proposed combining features of DAO and ICO in order to improve accountability in the ICO model of fundraising.
– This article was originally posted at CryptoTraderNews
About CryptoCurrencyWire ("CCW")
CryptoCurrencyWire (CCW) is a financial news and content distribution company that provides (1) access to a network of wire services via NetworkWire to reach all target markets, industries and demographics in the most effective manner possible, (2) article and editorial syndication to 5,000+ news outlets (3), enhanced press release services to ensure maximum impact, (4) social media distribution via the Investor Brand Network (IBN) to nearly 2 million followers, (5) a full array of corporate communications solutions, and (6) a total news coverage solution with CCW Prime. As a multifaceted organization with an extensive team of contributing journalists and writers, CCW is uniquely positioned to best serve private and public companies that desire to reach a wide audience of investors, consumers, journalists and the general public. By cutting through the overload of information in today's market, CCW brings its clients unparalleled visibility, recognition and brand awareness.
To receive instant SMS alerts, text CRYPTO to 77948 (U.S. Mobile Phones Only)
CryptoCurrencyNewsWire is where News, content and information converge via Crypto.
For more information, please visit https://www.CryptoCurrencyWire.com
Please see full terms of use and disclaimers on the CryptoCurrencyWire (CCW) website applicable to all content provided by CCW, wherever published or re-published: http://CCW.fm/Disclaimer
CryptoCurrencyWire (CCW)
New York, New York
www.CryptoCurrencyWire.com
212.994.9818 Office
Editor@CryptoCurrencyWire.com
CryptoCurrencyWire is part of the InvestorBrandNetwork.
This article contains Third-Party Content submitted by third parties, including articles submitted through the CCW Premium Partnership Program. All opinions, statements and representations expressed by such third parties are theirs alone and do not express or represent the views and opinions of CCW or its affiliates and owners. Content created by third parties is the sole responsibility of such third parties, and CCW does not endorse, guarantee or make representations concerning the accuracy and completeness of all third-party content. You acknowledge that by CCW providing you with this internet portal that makes accessible to you the ability to view third-party content through the CCW site, CCW does not undertake any obligation to you as a reader of such content or assume any liability relating to such third-party content. CCW expressly disclaims liability relating to such third-party content. CCW and its members, affiliates, successors, assigns, officers, directors, and partners assume no responsibility or liability that may arise from the third-party content, including, but not limited to, responsibility or liability for claims for defamation, libel, slander, infringement, invasion of privacy and publicity rights, fraud, or misrepresentation, or an private right of action under the federal securities laws of the United States or common law. Notwithstanding the foregoing, CCW reserves the right to remove third-party content at any time in its sole discretion.