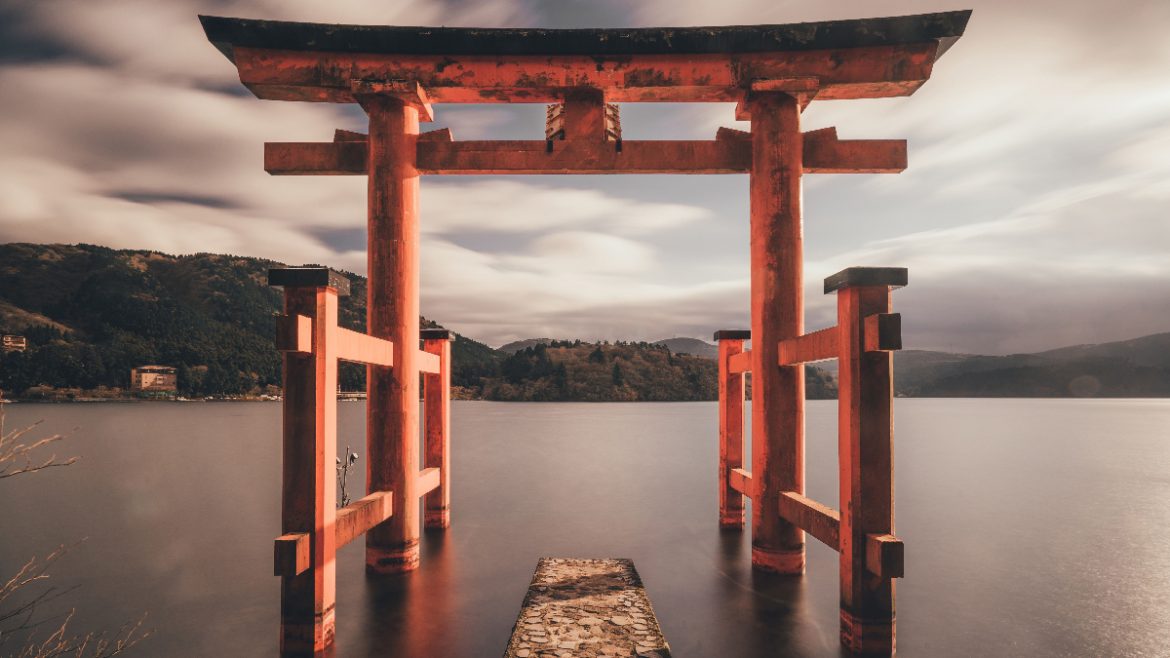 Softbank Group Corp. is a Japanese multinational conglomerate holding corporation based in Japan. It has been around for quite sometime now.
Different branches of Softbank include Softbank Corp., the more recent Softbank Vision fund, ARM, and an investment management firm.
Softbank also owns Boston Dynamics, and significant stakes in Sprint, Alibaba, Yahoo! Japan It recently branched out to investing in more innovative companies such as Uber, OYO rooms, Didi Chuxing, Ola, in addition to other compelling and controversial companies such as WeWork.
Its leaders have high ambitions and have been on an investment spree across the world, raising funds from places as far the Saudi Kingdom in order to invest in companies all over the world.
But what is Softbank's core business? When did it get its start and what does it focus on?
Softbank: The Origins
Formed in the latter half of 1981, many may not realize that Softbank was created by a young Masayoshi Son. He was only 24 at the time of founding Softbank.
Softbank started off very simply, as a computer components store. A few months later, the entity would expand from computer components to publishing. This expansion wasn't a stretch by any means. Softbank would publish information on specific computing devices in the market. The corporation realized significant interest by a large audience in its publications.
Softbank would go on to distribute over 120,000 copies of its magazines by 1989.
The Japanese company with humble origins was now growing and becoming a more recognizable brand in Japan.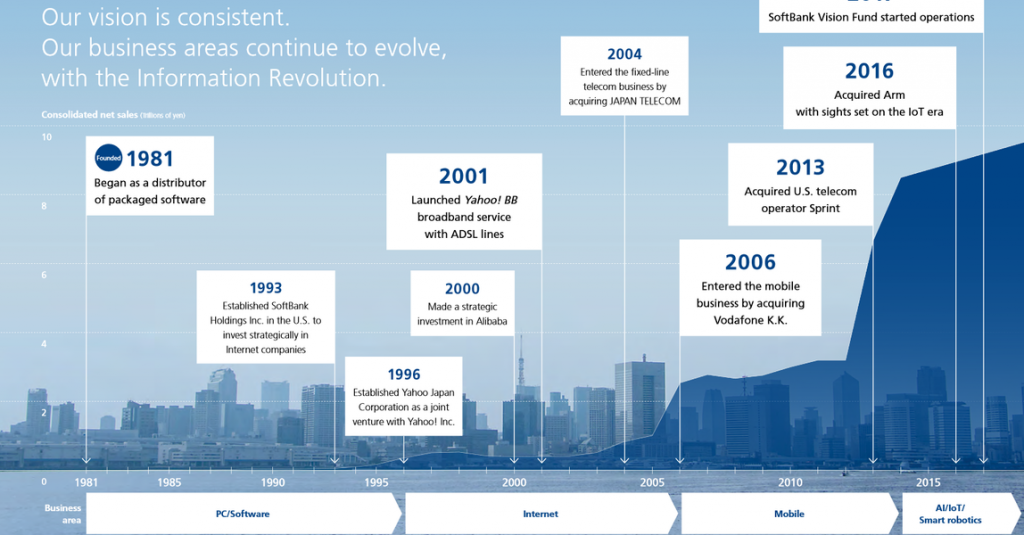 Softbank: The Initial Public Offering
Softbank would find itself going public in the tech frenzy of the 1990's. It would continue to increase momentum, and be appraised at over $2 billion. The company would make its first major acquisition with COMDEX, then Ziff Davis, shortly after its Initial Public Offering.
It would establish itself as an acquirer of firms over the next several years and step into the Internet Services sector. Its partnership with Yahoo!, creating Yahoo! Japan would set a precedent for Softbank and would help it become a larger contender in the rising technology sector.
Doubling down on its intent to further its growth in the internet sector, it would seek out and invest in its next wildly profitable venture, Alibaba. The rapidly rising e-commerce company would provide astounding returns that would amplify Softbank's balance sheet.
The quickly growing Japanese corporation would enter into banking (SBI Group), mobile operations (Vodafone Japan later named Softbank Mobile). Softbank Mobile would grow with key purchases in telecom companies like the Sprint Corporation.
The most exciting part about Softbank may be it's ambitions for the future.
Softbank: The Future
"AI will be the largest revolution in human history."
The most compelling component of Softbank is its interest in "make many people around the world even a little happier through the Information Revolution."
Softbank's CEO commented, "nothing would be more personally gratifying than contributing to people's happiness in some way, and even slightly sharing in it."
Softbank management and its overall ecosystem seeks to bring about an AI ecosystem with each one of its present and future investments. One can see this in its considerable investments in large scale companies such as Uber, WeWork, Cohesity, DoorDash,Flexport, Kabbage and several other fast scaling innovative startups across the globe.
– This article was originally posted at CryptoTraderNews
About CryptoCurrencyWire ("CCW")
CryptoCurrencyWire (CCW) is a financial news and content distribution company that provides (1) access to a network of wire services via NetworkWire to reach all target markets, industries and demographics in the most effective manner possible, (2) article and editorial syndication to 5,000+ news outlets (3), enhanced press release services to ensure maximum impact, (4) social media distribution via the Investor Brand Network (IBN) to nearly 2 million followers, (5) a full array of corporate communications solutions, and (6) a total news coverage solution with CCW Prime. As a multifaceted organization with an extensive team of contributing journalists and writers, CCW is uniquely positioned to best serve private and public companies that desire to reach a wide audience of investors, consumers, journalists and the general public. By cutting through the overload of information in today's market, CCW brings its clients unparalleled visibility, recognition and brand awareness.
To receive instant SMS alerts, text CRYPTO to 77948 (U.S. Mobile Phones Only)
CryptoCurrencyNewsWire is where News, content and information converge via Crypto.
For more information, please visit https://www.CryptoCurrencyWire.com
Please see full terms of use and disclaimers on the CryptoCurrencyWire (CCW) website applicable to all content provided by CCW, wherever published or re-published: http://CCW.fm/Disclaimer
CryptoCurrencyWire (CCW)
New York, New York
www.CryptoCurrencyWire.com
212.994.9818 Office
Editor@CryptoCurrencyWire.com
This article contains Third-Party Content submitted by third parties, including articles submitted through the CCW Premium Partnership Program. All opinions, statements and representations expressed by such third parties are theirs alone and do not express or represent the views and opinions of CCW or its affiliates and owners. Content created by third parties is the sole responsibility of such third parties, and CCW does not endorse, guarantee or make representations concerning the accuracy and completeness of all third-party content. You acknowledge that by CCW providing you with this internet portal that makes accessible to you the ability to view third-party content through the CCW site, CCW does not undertake any obligation to you as a reader of such content or assume any liability relating to such third-party content. CCW expressly disclaims liability relating to such third-party content. CCW and its members, affiliates, successors, assigns, officers, directors, and partners assume no responsibility or liability that may arise from the third-party content, including, but not limited to, responsibility or liability for claims for defamation, libel, slander, infringement, invasion of privacy and publicity rights, fraud, or misrepresentation, or an private right of action under the federal securities laws of the United States or common law. Notwithstanding the foregoing, CCW reserves the right to remove third-party content at any time in its sole discretion.