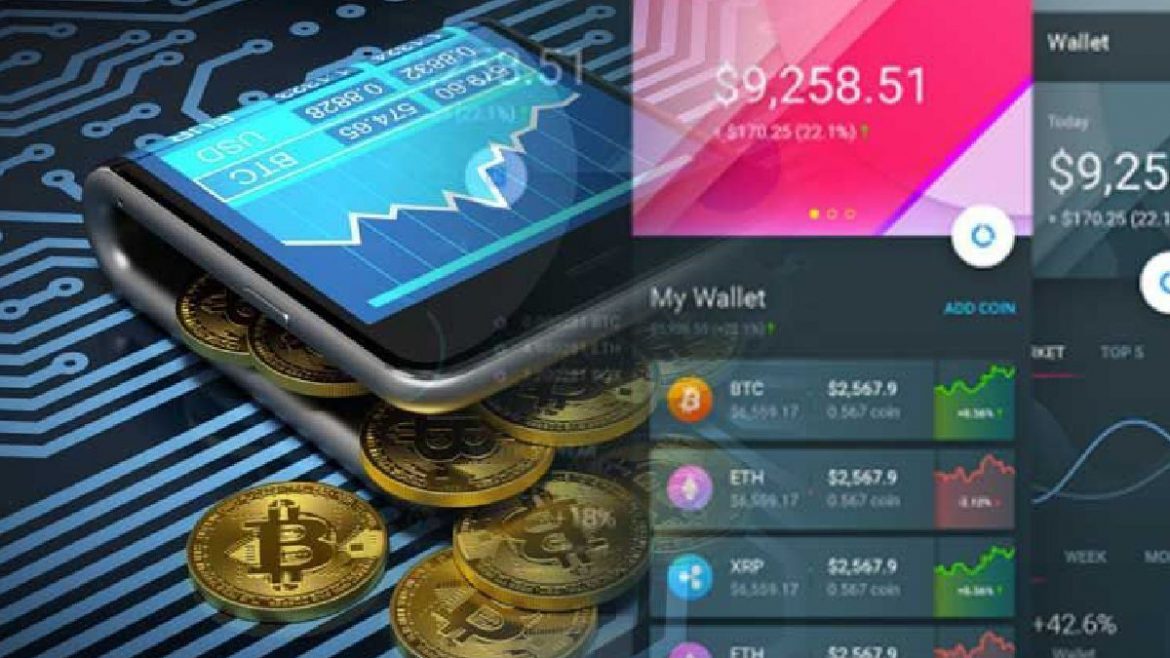 Earning a steady income through cryptocurrency day trading is possible with a smart and balanced cryptocurrency portfolio. The cryptocurrency market is extremely volatile and professional traders build their portfolio with utmost caution and careful evaluation of cryptocurrencies in the Top 100.
Here are a few tips on building a smart and balanced portfolio
Be patient and avoid panic selling – The market goes through cycles and dips happen frequently. Chances are nine times out of ten, coins will dip and rebound. While market crashes occur, they can be avoided by choosing the right coins and investing with the right strategy.
Split your investment and buy multiple coins – Split your investment across ten coins with good potential and trade or hold the wallet and wait.
Buy with a target – Before buying a coin, decide the target price at which you plan to sell the coin.
Focus on minimizing risk – Use a risk-reward formula to decide how much risk you are willing to take for the rewards that you are looking for.
While building your portfolio for September 2019, it is crucial to pick the right entry point. Here's a list of coins with the recommended entry-level.
Bitcoin
Bitcoin is currently trading at $10,279; close to the $10,100 level. The price may drop further before a rebound. This week is particularly bearish for Bitcoin and the recommended buying range is $10,100 – $10,300. Our short term prediction for Bitcoin is bearish and long position is bullish. As we discussed in our Bitcoin price prediction, Bitcoin has entered its fourth parabolic phase and this may be the best time to short the cryptocurrency before the upcoming bull run.
Bitcoin's dominance is above 70 percent and 35-40 percent of your portfolio should constitute of Bitcoin.
Tron
Tron is currently trading at $0.0158 and it is almost at the same level as last week. If the bulls make it past the $0.016 resistance by the end of this week, the price will move downwards. Tron became mainstream due to its promoters in the past two years and the project has great future potential. This is an altcoin that should be included in your portfolio. The recommended share of altcoins in your portfolio is 55-60%. The recommended buying level is $0.014 – $0.015. In the following weeks of September 2019, Tron can possibly break the $0.016 mark and retesting the resistance at $0.018.
Cardano
Cardano currently ranks 11th based on market capitalization and is trading at $0.0475. This altcoin is well above the 50-day SMA line indicating a bullish trend. Cardano is a leading altcoin and the recommended buying level is $0.042 – $0.044. In the following weeks of September 2019, Cardano may test resistance and trade at $0.049 level.
Ripple
Ripple ranks 3rd based on market capitalization and is currently trading at $0.2616. The Ripple community has witnessed events like an upcoming hard fork and several partnerships with global financial institutions and banks. Ripple is laying the foundation for long term growth and mainstream adoption. Though there hasn't been a bull run in the past two years, the coin has the potential for growth and will continue to appreciate in value over the next few months. This qualifies Ripple as a leading altcoin to add to your portfolio.
Apart from adding new altcoins to your portfolio, it's important to rebalance an existing portfolio for higher returns. Rebalancing helps reduce the risk that an investor suffers from in the event of market volatility. It also helps 'restore' their desired asset allocation and risk level. It is recommended that you use a crypto portfolio tracker and assess the performance of your portfolio and make desired updates based on the recommendations and insights shared here.
– This article was originally posted at CryptoTraderNews
About CryptoCurrencyWire ("CCW")
CryptoCurrencyWire (CCW) is a financial news and content distribution company that provides (1) access to a network of wire services via NetworkWire to reach all target markets, industries and demographics in the most effective manner possible, (2) article and editorial syndication to 5,000+ news outlets (3), enhanced press release services to ensure maximum impact, (4) social media distribution via the Investor Brand Network (IBN) to nearly 2 million followers, (5) a full array of corporate communications solutions, and (6) a total news coverage solution with CCW Prime. As a multifaceted organization with an extensive team of contributing journalists and writers, CCW is uniquely positioned to best serve private and public companies that desire to reach a wide audience of investors, consumers, journalists and the general public. By cutting through the overload of information in today's market, CCW brings its clients unparalleled visibility, recognition and brand awareness.
To receive instant SMS alerts, text CRYPTO to 77948 (U.S. Mobile Phones Only)
CryptoCurrencyNewsWire is where News, content and information converge via Crypto.
For more information, please visit https://www.CryptoCurrencyWire.com
Please see full terms of use and disclaimers on the CryptoCurrencyWire (CCW) website applicable to all content provided by CCW, wherever published or re-published: http://CCW.fm/Disclaimer
CryptoCurrencyWire (CCW)
New York, New York
www.CryptoCurrencyWire.com
212.994.9818 Office
Editor@CryptoCurrencyWire.com
This article contains Third-Party Content submitted by third parties, including articles submitted through the CCW Premium Partnership Program. All opinions, statements and representations expressed by such third parties are theirs alone and do not express or represent the views and opinions of CCW or its affiliates and owners. Content created by third parties is the sole responsibility of such third parties, and CCW does not endorse, guarantee or make representations concerning the accuracy and completeness of all third-party content. You acknowledge that by CCW providing you with this internet portal that makes accessible to you the ability to view third-party content through the CCW site, CCW does not undertake any obligation to you as a reader of such content or assume any liability relating to such third-party content. CCW expressly disclaims liability relating to such third-party content. CCW and its members, affiliates, successors, assigns, officers, directors, and partners assume no responsibility or liability that may arise from the third-party content, including, but not limited to, responsibility or liability for claims for defamation, libel, slander, infringement, invasion of privacy and publicity rights, fraud, or misrepresentation, or an private right of action under the federal securities laws of the United States or common law. Notwithstanding the foregoing, CCW reserves the right to remove third-party content at any time in its sole discretion.