After a month of intense downward correction, the Bitcoin price action is gaining momentum and is currently trading at $10,528. $10K is a key psychological price level for the cryptocurrency and it has finally started ascending towards the next resistance at $10,800.
Crypto analysts are predicting that Bitcoin's recent upwards movement may be an early stage of its next parabolic phase. According to Peter Brandt, a crypto expert and prominent analyst, this parabolic phase could lead the price significantly past its previously established all-time highs.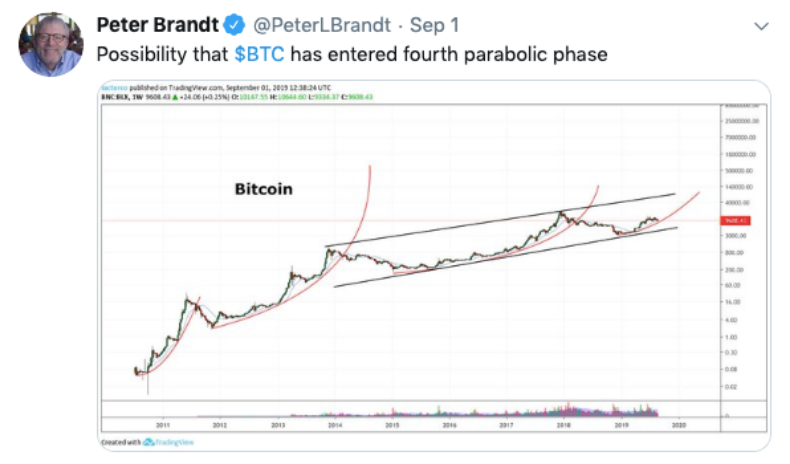 Since August 30, 2019, Bitcoin price has been hitting a new high every day. It crossed the psychological $10K mark on September 2, 2019. This is a relatively good high and the next major target for Bitcoin bulls is $12K.
Many other crypto experts are holding a bullish sentiment on Bitcoin's price action and it can be deduced that Bitcoin is currently entering its fourth parabolic phase. It might be too early to know for sure, however, once Bitcoin crosses the $12K level, all bullish possibilities will be confirmed. A failure to breach the $12K level may, however, send us back to test $9,100 major support level. In either case, after a weekend of very low volatility in both bitcoin and the broader crypto market, the number one cryptocurrency did find some buyers overnight. At the time of writing, Bitcoin price is up by 1.67% in the past 24 hours.
The rising tension in the US-China trade war, the looming threat of a no-deal Brexit and the launch of China's digital currency are the factors contributing to an uptrend. The crypto community has been looking for a correlation between Litecoin's price collapse post halving and Bitcoin's upcoming halving, but celebrated quantitative analyst, PlanB, mentioned that the above logic is flawed. Bitcoin has a significant stock-to-flow relation compared to Litecoin, and the halving is relevant to the bullish price action.
Bitcoin's mining hash rate has been explosive in the past week and this could indicate better security and decentralization of mining power across more users. Currently, Bitcoin is clocking an all-time high mining hash rate of 84,033,177 TH/s, data from monitoring resource and wallet provider Blockchain.com confirmed. That number is a record in BTC's ten-year history. Since hashing precedes Bitcoin, more hashes per second indicate that higher computing power is dedicated to the Bitcoin Network. It will be interesting to see Bitcoin's price action this week to find out if it entered the parabolic phase.
– This article was originally posted at CryptoTraderNews
About CryptoCurrencyWire ("CCW")
CryptoCurrencyWire (CCW) is a financial news and content distribution company that provides (1) access to a network of wire services via NetworkWire to reach all target markets, industries and demographics in the most effective manner possible, (2) article and editorial syndication to 5,000+ news outlets (3), enhanced press release services to ensure maximum impact, (4) social media distribution via the Investor Brand Network (IBN) to nearly 2 million followers, (5) a full array of corporate communications solutions, and (6) a total news coverage solution with CCW Prime. As a multifaceted organization with an extensive team of contributing journalists and writers, CCW is uniquely positioned to best serve private and public companies that desire to reach a wide audience of investors, consumers, journalists and the general public. By cutting through the overload of information in today's market, CCW brings its clients unparalleled visibility, recognition and brand awareness.
To receive instant SMS alerts, text CRYPTO to 77948 (U.S. Mobile Phones Only)
CryptoCurrencyNewsWire is where News, content and information converge via Crypto.
For more information, please visit https://www.CryptoCurrencyWire.com
Please see full terms of use and disclaimers on the CryptoCurrencyWire (CCW) website applicable to all content provided by CCW, wherever published or re-published: http://CCW.fm/Disclaimer
CryptoCurrencyWire (CCW)
New York, New York
www.CryptoCurrencyWire.com
212.994.9818 Office
Editor@CryptoCurrencyWire.com
This article contains Third-Party Content submitted by third parties, including articles submitted through the CCW Premium Partnership Program. All opinions, statements and representations expressed by such third parties are theirs alone and do not express or represent the views and opinions of CCW or its affiliates and owners. Content created by third parties is the sole responsibility of such third parties, and CCW does not endorse, guarantee or make representations concerning the accuracy and completeness of all third-party content. You acknowledge that by CCW providing you with this internet portal that makes accessible to you the ability to view third-party content through the CCW site, CCW does not undertake any obligation to you as a reader of such content or assume any liability relating to such third-party content. CCW expressly disclaims liability relating to such third-party content. CCW and its members, affiliates, successors, assigns, officers, directors, and partners assume no responsibility or liability that may arise from the third-party content, including, but not limited to, responsibility or liability for claims for defamation, libel, slander, infringement, invasion of privacy and publicity rights, fraud, or misrepresentation, or an private right of action under the federal securities laws of the United States or common law. Notwithstanding the foregoing, CCW reserves the right to remove third-party content at any time in its sole discretion.