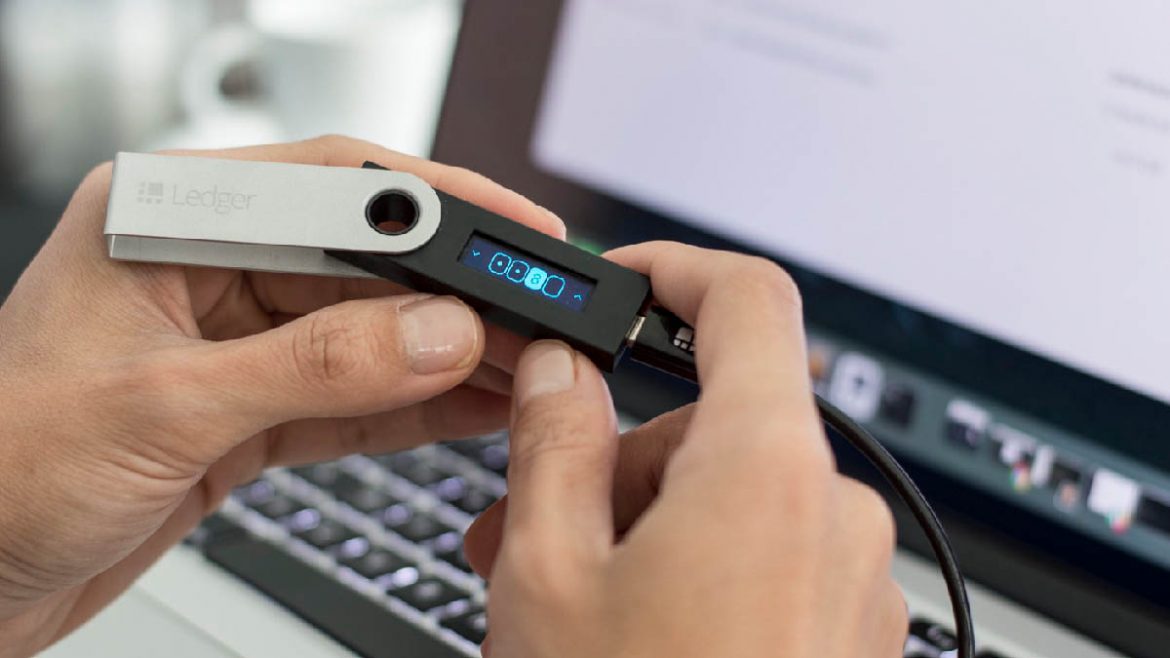 There are several cryptocurrency wallets in the market and one of the best ones is Ledger Nano S. I first used Ledger Nano S in June 2019. There are several hardware wallets out there, however, this one stands out from the rest as it supports a wide variety of cryptocurrencies. Coupled with high security and an easy to use interface it is the most preferred hardware wallet.
Like other hardware wallets, Ledger has a robust security infrastructure, better than digital wallets. A hardware wallet allows you to send and receive Bitcoins from any computer, even one compromised with malware. The best way to achieve maximum security is to store private keys in a hardware wallet and this way they can be offline. Hackers won't be able to attack your wallet remotely and the wallet will require a second screen/device to verify actions like signing a transaction.
Without connecting the ledger to the computer, you cannot access your assets. Because of this, a hacker would need access to both the device and the hardware wallet.
More about Ledger
Ledger was founded in 2014 and it is a leader in security infrastructure. Ledger has its headquarters in Paris and a team of over a 100 cryptocurrency professionals run the place. Ledger's cutting edge innovation and products are aimed at safeguarding cryptocurrency assets for individuals and companies.
Their top of the line offering – the Ledger Hardware Wallet has sold in 150+ countries and the company has raised nearly $80 million in funding. It's also popular because it's handy and compact and comes in a metal casing that makes it durable.
It's easy to use, you simply plug it into your computer and choose a password/ PIN to protect it from access by others. The team sends you a 24-word seed phrase that acts as your private key. The device comes with two buttons for control. You can take 5 to 10 minutes to set up the wallet and most of this is spent on writing down your seed words. If your computer is hacked/compromised, the hacker will be able to see the seed if it was displayed on your screen. Install Ledger Live and that's the end of the process. The interface is very user friendly and super intuitive.
The Ledger Nano S can also be used to secure existing software wallets such as MyCelium, Electrum, MyEtherWallet and more. The wallet supports 1000+ coins and tokens and coins can be sent / received via the Ledger Live software interface.
Supported Tokens on Ledger
The top supported coins: Bitcoin (BTC), Bitcoin Cash (BCH), Bitcoin Gold (BTG), Ethereum (ETH), Monero (XMR), Ethereum Classic (ETC), Ripple (XRP), Litecoin (LTC), Dogecoin (DOGE), Zcash (ZEX), Dash (DASH) and Binance Coin (BNB). Top ERC-20 tokens need alternative software connected to Ledger to send and receive them. It's available for $59 all-inclusive. This makes it one of the most affordable hardware wallets on the market compared to wallets like the Trezor.
Ledger is a bit smaller in size and more durable compared to others available in the market. So while it's a winner in the category, it's interface could have been better. However, both wallets are easy to use and don't require much technical know how.
Another plus is that Ledger demonstrates excellent customer support and stability in the past few years, so I recommend this to everyone looking for an affordable hardware wallet.
– This article was originally posted at CryptoTraderNews
About CryptoCurrencyWire ("CCW")
CryptoCurrencyWire (CCW) is a financial news and content distribution company that provides (1) access to a network of wire services via NetworkWire to reach all target markets, industries and demographics in the most effective manner possible, (2) article and editorial syndication to 5,000+ news outlets (3), enhanced press release services to ensure maximum impact, (4) social media distribution via the Investor Brand Network (IBN) to nearly 2 million followers, (5) a full array of corporate communications solutions, and (6) a total news coverage solution with CCW Prime. As a multifaceted organization with an extensive team of contributing journalists and writers, CCW is uniquely positioned to best serve private and public companies that desire to reach a wide audience of investors, consumers, journalists and the general public. By cutting through the overload of information in today's market, CCW brings its clients unparalleled visibility, recognition and brand awareness.
To receive instant SMS alerts, text CRYPTO to 77948 (U.S. Mobile Phones Only)
CryptoCurrencyNewsWire is where News, content and information converge via Crypto.
For more information, please visit https://www.CryptoCurrencyWire.com
Please see full terms of use and disclaimers on the CryptoCurrencyWire (CCW) website applicable to all content provided by CCW, wherever published or re-published: http://CCW.fm/Disclaimer
CryptoCurrencyWire (CCW)
New York, New York
www.CryptoCurrencyWire.com
212.994.9818 Office
Editor@CryptoCurrencyWire.com
CryptoCurrencyWire is part of the InvestorBrandNetwork.
This article contains Third-Party Content submitted by third parties, including articles submitted through the CCW Premium Partnership Program. All opinions, statements and representations expressed by such third parties are theirs alone and do not express or represent the views and opinions of CCW or its affiliates and owners. Content created by third parties is the sole responsibility of such third parties, and CCW does not endorse, guarantee or make representations concerning the accuracy and completeness of all third-party content. You acknowledge that by CCW providing you with this internet portal that makes accessible to you the ability to view third-party content through the CCW site, CCW does not undertake any obligation to you as a reader of such content or assume any liability relating to such third-party content. CCW expressly disclaims liability relating to such third-party content. CCW and its members, affiliates, successors, assigns, officers, directors, and partners assume no responsibility or liability that may arise from the third-party content, including, but not limited to, responsibility or liability for claims for defamation, libel, slander, infringement, invasion of privacy and publicity rights, fraud, or misrepresentation, or an private right of action under the federal securities laws of the United States or common law. Notwithstanding the foregoing, CCW reserves the right to remove third-party content at any time in its sole discretion.