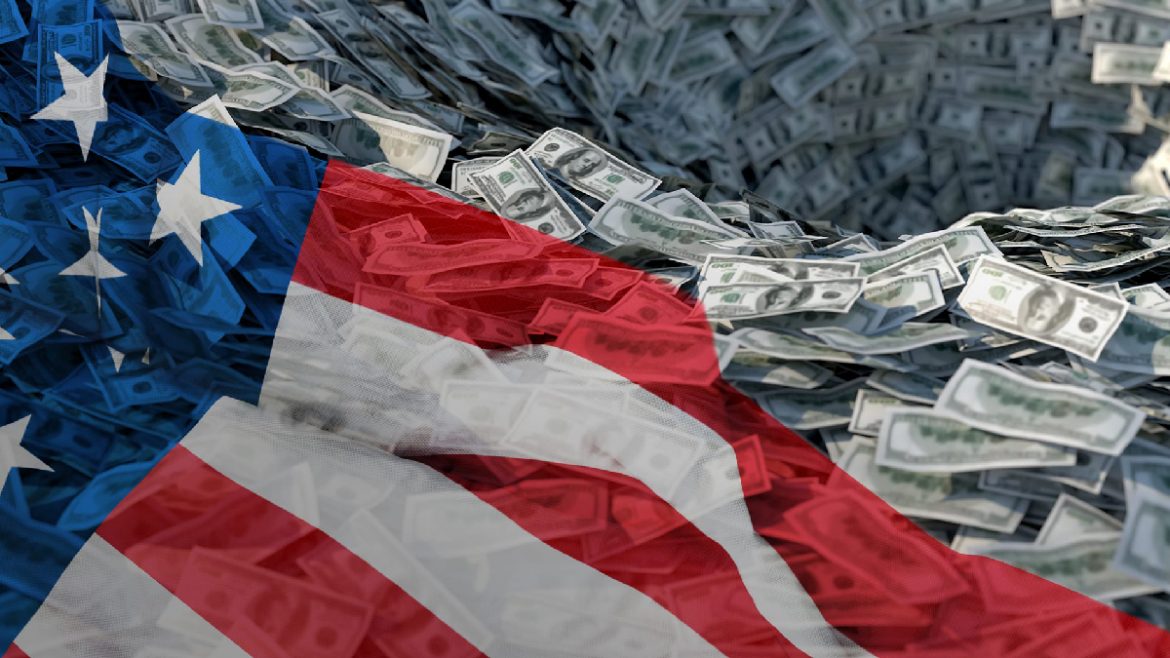 "The most significant threat to our national security is our debt." This was said by Adm. Michael Mullen in 2010, but nearly ten years ago the federal debt totaled $13T and here we are on the verge of reaching the $23 Trillion mark on debt. Is cryptocurrency the solution, or at the very least, a beacon of hope to dig ourselves out of this oppressive debt?
Consider that in addition to the existing debt, the nonpartisan Congressional Budget Office expects an annual deficit of $1 Trillion a year over the next 30 years even without a recession, a major war, or the addition of some proposed government funded programs.
This is not to say that the country will sink under its debt, nor does it endanger the security and prosperity of America, but it is very important for lawmakers to rein in the runaway debt before it is too late. As debt grows, interest payments on the debt are rising. These payments are growing faster than our total economy and putting a drag on our economic growth.
So, let's talk about some of the largest contributing factors to the US debt. Above all else, the entitlement programs such as Social Security, Medicare, and Medicaid are the biggest contributors to the national debt. These programs will account for two-thirds of the expected spending increase over the next decade.
The vast majority of Americans receive more in benefits from programs such as Social Security and Medicare than they paid in lifetime payroll taxes, which means that without reforms, younger workers would face much higher taxes to keep these programs solvent. Despite the $23 Trillion federal debt and the enormous challenge to reform Social Security and Medicare, there is a solution to this but most politicians don't like making hard choices that will rock the boat. So, instead of making difficult choices on taxes and spending, it's much easier to increase the debt ceiling and keep on spending, right? To do otherwise might be political suicide for many candidates who support change.
Media reports are quick to blame today's deficits on the 2017 tax cut but the reality is that federal tax revenue is close to the historical average and expected to rise. In contrast, spending is already well above average, and will soon reach levels not seen since World War II. Investors are looking toward diversifying their investment portfolios and looking for safe havens for their money; their eyes are turning to cryptocurrency. In times of war and geopolitical uncertainty, cryptocurrencies like Bitcoin have gained in interest, investment dollars and the market cap has grown significantly since 2009 when Satoshi Nakamoto published the Bitcoin whitepaper and found the genesis block.
It is time to stop shirking responsibility and tackle the debt head-on. It's not called TOUGH LOVE because it's easy. The good of the nation's economic growth and prosperity of the country and its people are at stake. Cryptocurrency might be the thing that saves people in turbulent economic times, and that's where we're headed if we the government doesn't put a leash on their spending. It will be interesting to watch how investors turn to the crypto industry and spur bullish sentiments.
– This article was originally posted at CryptoTraderNews
About CryptoCurrencyWire ("CCW")
CryptoCurrencyWire (CCW) is a financial news and content distribution company that provides (1) access to a network of wire services via NetworkWire to reach all target markets, industries and demographics in the most effective manner possible, (2) article and editorial syndication to 5,000+ news outlets (3), enhanced press release services to ensure maximum impact, (4) social media distribution via the Investor Brand Network (IBN) to nearly 2 million followers, (5) a full array of corporate communications solutions, and (6) a total news coverage solution with CCW Prime. As a multifaceted organization with an extensive team of contributing journalists and writers, CCW is uniquely positioned to best serve private and public companies that desire to reach a wide audience of investors, consumers, journalists and the general public. By cutting through the overload of information in today's market, CCW brings its clients unparalleled visibility, recognition and brand awareness.
To receive instant SMS alerts, text CRYPTO to 77948 (U.S. Mobile Phones Only)
CryptoCurrencyNewsWire is where News, content and information converge via Crypto.
For more information, please visit https://www.CryptoCurrencyWire.com
Please see full terms of use and disclaimers on the CryptoCurrencyWire (CCW) website applicable to all content provided by CCW, wherever published or re-published: http://CCW.fm/Disclaimer
CryptoCurrencyWire (CCW)
New York, New York
www.CryptoCurrencyWire.com
212.994.9818 Office
Editor@CryptoCurrencyWire.com
This article contains Third-Party Content submitted by third parties, including articles submitted through the CCW Premium Partnership Program. All opinions, statements and representations expressed by such third parties are theirs alone and do not express or represent the views and opinions of CCW or its affiliates and owners. Content created by third parties is the sole responsibility of such third parties, and CCW does not endorse, guarantee or make representations concerning the accuracy and completeness of all third-party content. You acknowledge that by CCW providing you with this internet portal that makes accessible to you the ability to view third-party content through the CCW site, CCW does not undertake any obligation to you as a reader of such content or assume any liability relating to such third-party content. CCW expressly disclaims liability relating to such third-party content. CCW and its members, affiliates, successors, assigns, officers, directors, and partners assume no responsibility or liability that may arise from the third-party content, including, but not limited to, responsibility or liability for claims for defamation, libel, slander, infringement, invasion of privacy and publicity rights, fraud, or misrepresentation, or an private right of action under the federal securities laws of the United States or common law. Notwithstanding the foregoing, CCW reserves the right to remove third-party content at any time in its sole discretion.